Friday, November 2, 2018 12:00 AM
VOTE BY TUESDAY NOVEMBER 6TH.
Dear fellow Republicans,

I am Dr. Savio Pham, candidate for LD 38 WA Senate. This short article, although written by a liberal, has decently summed up who I am and the spirit of my campaign: I am ready and willing to serve. Click here to learn about me.
My grassroots-volunteer-only-campaign has gone from impossible to unlikely in primary and now in 18 in 18' races to watch nationwide by Republican State Leadership Committee . Governor Evans, Secretary of State Kim Wyman, Senator Curtis King, Senator Mike Padden, Snohomish County Councilmen Sam Low and Nate Nehring, and many others in Washington have endorsed me and now we are reaching the last few days before the finish line and I need your help to push me over. Please help out a fellow Republican in this crucial election. I can help turn Washington Senate red.

My campaign has inspired many people in the #SilentMajority. I hope it will inspire you to cast your ballot and encourage people to do the same. I can win for the team. I want America to remain the beacon of hope for the world and keep America the top competitive economy in the world, again, after 10 long years we lost that title.

Please do this for the team: call all of your friends and families in LD38. Thank you.

God Bless You
God Bless the GOP, the party that fought against slavery, for civil rights and for freedom, not just of America but for other oppressed countries in the world.
And God Bless America

Very truly yours,

Dr. Savio Pham
---
Wednesday, October 24, 2018 12:00 AM
Dr. Savio Pham addressed voters and supporters in the final event before the General Election. "A vote for me is a vote for a Dream Come True, a vote for Your Voice Being Heard, a vote for the control of your own success, and a vote for the well-earned freedom." (Click on title to view clip)
---
Thursday, October 18, 2018 12:00 AM
(Everett) The Republican State Leadership Committee (RSLC) named Savio Pham to its "18 in '18: Races to Watch" list. Comprised of the RSLC's Future Majority Project (FMP) and Right Women, Right Now (RWRN) initiatives, Pham is credited by the RSLC as a rising star who will champion conservative policies while representing the full diversity of the nation. The RSLC's FMP and RWRN initiatives both aim to identify, defend, recruit, and support new diverse and women candidates and office holders at the state level.
The RSLC's "18 in '18 Races to Watch" lists include new and targeted candidates on the ballot this November for the first time, as well as, Republican elected officials who have already achieved electoral success and are in competitive re-election bids. This fall, the RSLC has thus far highlighted 72 candidates nationally as part of their "18 in '18 Races To Watch" lists.
"Republicans at the state level would not be reaching historical highs, without the growing diversity of our party, and candidates like Pham. Pham represents the best from our Future Majority Project (FMP) and Right Women, Right Now (RWRN) initiatives. The RSLC has invested over $20 million in these initiatives since 2011, electing 500 new female and 100 new diverse office holders in the process," said Matt Walter, President of the Republican State Leadership Committee.
The Future Majority Project and the Right Women, Right Now initiatives were integral parts of the ongoing 2010 REDMAP program which helped flip nearly 1000 state legislative seats, leading the GOP to presently control 67 of 99 statehouse chambers.
The latest list of "18 in '18 Races to Watch" can be found here: https://rslc.gop/wp-content/uploads/sites/8/2018/10/RSLC-18-in-18-4th-Edition.pdf
---
Wednesday, September 26, 2018 12:00 AM
First, we must be assured we have the beds and capacity to address the problem and we commit to dedicating one of every two new dollars to expand mental health in our State.

We commit to removing encampments in our public spaces as soon as they appear because a tent and a shack is not a real solution.

We commit to opposing Heroin Injection Sites as proposed by Seattle Democrat Leaders—It will only make drug and crime in our community worse.
---
Monday, September 24, 2018 12:00 AM
Sen. John McCoy failed to disclose tens of thousands of dollars of campaign contributions and not report any of his legally-required campaign finance reports for three years. This case was one of the largest campaign finance violations committed by a sitting state legislator. The Democrat-controlled Public Disclosure Commission slapped him on the wrist and fined him only $2,500.
---
Thursday, August 30, 2018 12:00 AM
"...As a newly minted politician, Pham said he aligns mostly with the values of the Republican Party. He doesn't believe in what he calls "over taxation," including a proposed state income tax and carbon tax. He's pro-life, meaning he will vote down any bill supporting abortion. And while he wants to give more support to health care providers who are battling the opioid epidemic, he doesn't believe in safe injection sites for heroin users..."
---
Friday, August 24, 2018 12:29 PM
In observing the International Overdose Awareness Day (8/31), Dr. Savio Pham participated in the A Night to Remember - A Time To Act in remembrance of those who died of opioid overdose and raising awareness of the community.
---
Friday, August 24, 2018 12:00 AM
OLYMPIA — Democratic state Sen. John McCoy of Tulalip was fined $5,000 by the Public Disclosure Commission Thursday for failing to disclose tens of thousands of dollars in campaign contributions he received between January 2015 and early 2018.
---
Tuesday, August 14, 2018 12:00 AM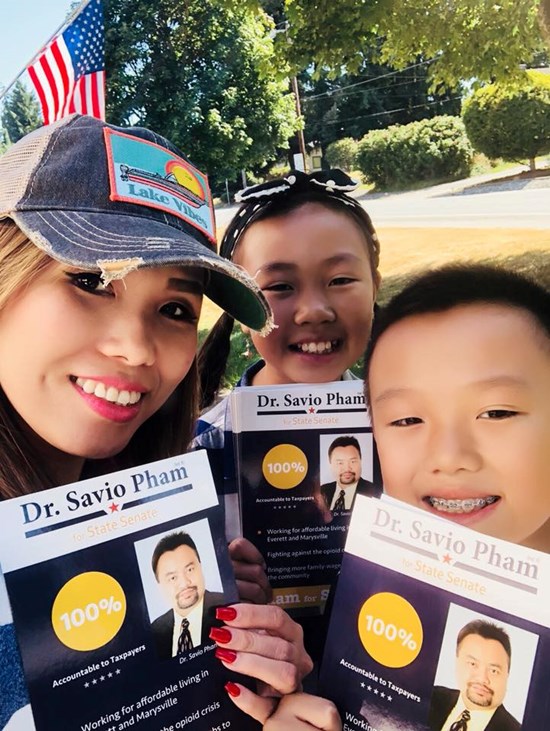 From the article: "...Democrat incumbent state Senator John McCoy(38th LD) performed poorly in the primary, struggling to clear 40% of the vote in a three-way runoff. This is terrible for an incumbent. His Democratic Party challenger, Bruce Overstreet, convinced almost 30% of the voters in this district that McCoy didn't represent them very well in Olympia. However, Overstreet was bounced off the ballot by new Republican challenger Savio Pham, who will face McCoy in the fall.
Republican state senate candidate Savio Pham (38th LD)
Savio will be courting the Democrat voters who rejected McCoy in the primary as well as the Republican voters who are always under assault by McCoy since he has been "representing" them in Olympia. Pham brings an energized and growing base of Washingtonian Vietnamese voters who have also been ignored and attacked by McCoy during his time in Olympia. If Pham continues to aggressively campaign and bring in enough money to effectively confront McCoy in the general election while courting the local disgruntled Democrats, there could be a surprise upset in this district.
McCoy has also been rated as one of the worst state senators in Washington State today with his voting record in the state on private property rights. Not even the state senators from Seattle have voting records that exceed McCoy's outright hostility to property owners in his district and throughout the state."
---
Monday, July 16, 2018 5:25 PM
---
Sunday, July 15, 2018 9:16 AM
Dr. Pham visited a supporter's residence and had a meaningful conversation with voters.
---
Thursday, July 5, 2018 5:01 PM
Dr. Savio Pham and supporters joined the Everett community in celebrating the Independence Day, 2018 by participating in the Snohomish County's Colors of Freedom Parade through downtown Everett.
---
Friday, June 15, 2018 1:15 PM
Dr. Pham's article was published on Federal Way Mirror last year during graduation season. It's been a year, but the topic is still relevant. Congrats to all graduates of 2018!
---
Friday, June 1, 2018 1:18 PM
Announcing State Senate Candidacy
Community first is Savio Pham's motto. Dr. Pham, a lifelong community volunteer and organizer, filed for candidacy for WA State Senate of Legislative District 38 on May 18th. What motivated Dr. Pham, a man who rather live out his love for the community as a quiet and steady supporter through his jobs, to take on a more public role was the heartfelt requests from friends and supporters from the Legislative District 38 who wanted change in the area.
Dr. Pham, well-respected for his many initiatives to increase the visibility and well-being of marginalized community, felt it was the right time to give back at a more macro level as a State Senator. His candidacy announcement to his friends and supporters were received with enthusiasm and appreciation. Sharing with the group at his first formal public announcement, Dr. Savio said his decision to run for the public office is the next step in his life calling to serve others. "I have long been pursuing a quiet life. But when the community asked me to represent them, I believe it's my time to pay back for all the greatness I have received," he explained.
Dr. Andy Chiem reflects the thoughts of many when he expressed, "It's time for us, the everyday person, to have a voice in a public office."